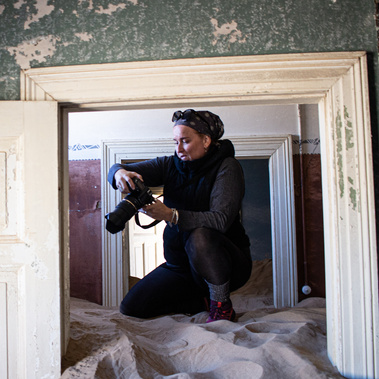 Nǐhǎo!Anyoung!Yā, Yō! Halløj! Namaste!

...Guten Tag from Berlin!
You found my corner of the internet. Welcome! Grab a cup of tea or a glass of wine and get lost in my stories. I am a multimedia travel journalist and photographer and this is my digital gallery. Note: Since this is a visual journey, this experience will always be better on a big screen!
This site is easy to navigate, go to the menu bar, here you will find my portfolio and an extensive archive. You can read about me, my career and see collections of my work as a journalist and photographer from a career that spans over sixteen years.

On this page, I share my latest visual work! Scroll down to see a new collection of images, Fire and Ice.
An·​thro·​po·​cene | \ ˈan(t)-thrə-pə-ˌsēn , an-ˈthrä- \
Anthropocene
: the period of time during which human activities have had an environmental impact on the Earth regarded as constituting a distinct geological age. — merriam-webster.com.

Most scientists agree that humans have had a hand in warming Earth's climate since the industrial revolution—some even argue that we are living in a new geological epoch, dubbed the Anthropocene.— Nature, 12 Feb. 2004
A new direction in my work as a multimedia journalist and photographer is inspired by a 16-year career in journalism, my love for the outdoors, and stories I did on the United Nations Sustainability Goals whilst living in Taiwan. I am interested in human activity and how as humans, we have a significant impact on the planet's climate and ecosystems.
My work has a solid journalistic element: its core is editorial. Each image can accompany a story in publication, online or in print. All photos and stories are tied together by a theme but exist on their own as an individual work. The themes I work with tie the narratives and guide the outline I work within. As a result, creative concepts develop not only before I set out to work but also in the field and the studio.
My visual and written work investigates how our daily activities impact the environment due to climate change, global warming, and natural habitat loss. I also document events that visually portray the changes in our oceans, the atmosphere and soil.
The recurring themes in my career as a journalist guide my future projects; I focus on travel, culture, eco-tourism, sustainability, and the environment. As a travel, culture and nature photographer, my work in photography focuses on the environment, sustainability, and the human experience.
Escape, 2019. Deadvlei, Namibia.
Slow Violence I, 2021. Jökulsárlón Glacier Lagoon, Iceland.
I have produced two bodies of work in the "Elements of Nature" curation since 2019. Land of Fire, Series I, was created in Namibia in 2019 and Land of Ice and Fire, Series I, was created in Iceland in 2021.
The bodies of work and frameworks for these long term projects I will continue to create, are the ever-changing landscapes and urban spaces and the effects of climate change on these spaces. I will continue to investigate the human impact on the environment as I explore more remote locations in Africa and Europe.
The landscapes and also some urban spaces I photographed since 2019, are fragile and influenced by weather patterns and the elements. Most locations in these images, especially in the two landscape series, are remote and inhospitable due to climate change or challenges due to the environment.
Simplicity II, 2019. Deadvlei, Namibia.
Anthropocene I, 2021. Jökulsárlón Glacier Lagoon, Iceland.
Camel Thorn Tree at 45. Dune 45, Namib Nauklauft National Park.
Anthropocene II, 2021 Jökulsárlón Glacier Lagoon, Iceland.
Desert Dance, 2019. Deadvlei, Namibia.
Retreat, 2021. Jökulsárlón Glacier Lagoon, Iceland.
After putting together the body of work Land of Fire, I I wanted to build on that by experimenting with earth, water, fire, wind and space as I would experience it in a climates closer to the Arctic. So it was a natural choice to go to a colder country like Iceland.
Land of Ice and Fire, series I is a body of work that experiments with and expands on the "Elements of Nature's" theme. Moving forward, I will try to focus my work on this theme and variations of this theme. I hope my work on the environment and the natural world will showcase the beauty of nature. Still, I also hope to ask essential questions about our human relationship with the natural world.
All images © 2006-2022
Lizane Louw Multimedia Travel Journalist and Photographer
All the photos on this site are copyrighted. Unauthorised use of any material without my written permission is prohibited. Contact me for the use of any of the work on the site. Photographic prints and framing of prints are available in the the new online art gallery studiolizanelouw.com